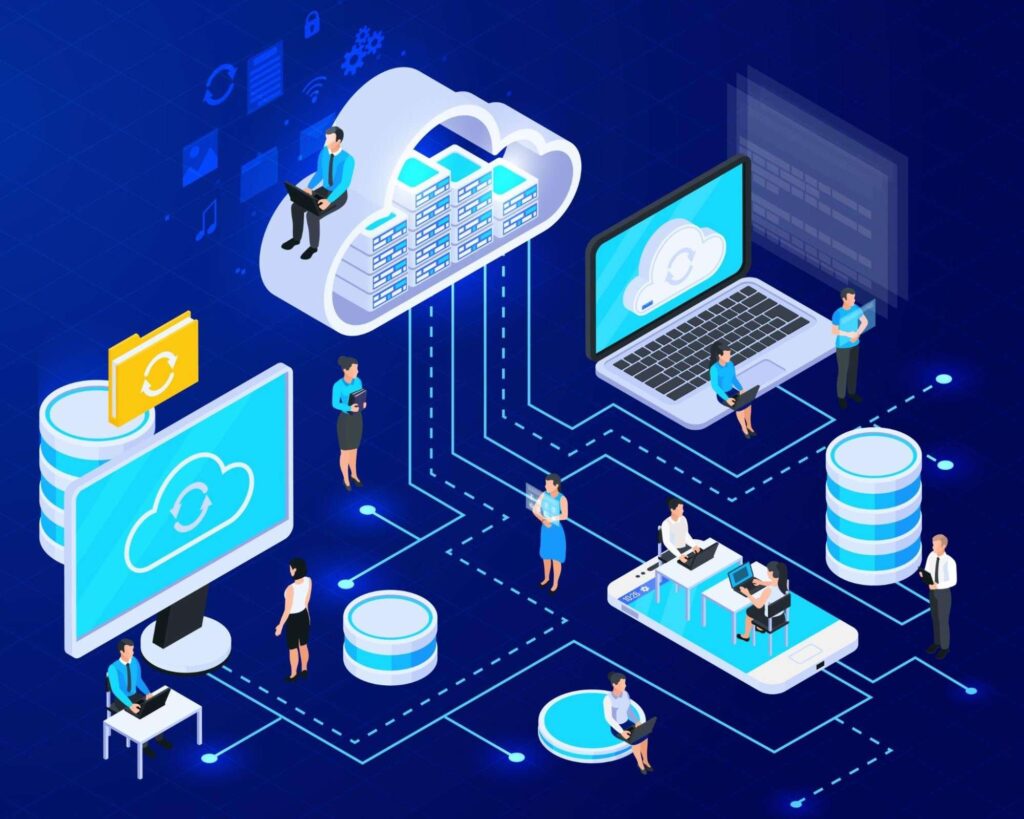 Cloud Lending is a FinTech innovation in the form of a digital platform designed exclusively for retail banking credit management. A primary focus of IT consulting firms, C-suite executives, and board members is on cloud computing for advancing the banking industry.  It also offers greater flexibility in responding to regulatory or market changes, cost savings, a better customer experience, and increased security. Switching to a cloud lending platform implies gaining access to new opportunities. If you want to bring your cloud lending solutions plans into action, connect with COMnet for the best-in-class IT solutions and services.
The lending business is known for being sluggish to adopt new technology, instead relying on heterogeneous systems with outmoded user interfaces to laboriously complete operations. According to research, antiquated systems use 30–40% of loan resources time on non-core duties. As more businesses undertake digital transformation in the aftermath of COVID, developing a solid cloud banking strategy that satisfies customers' expectations now becomes increasingly important. If you have been hesitating to switch to a Cloud Lending solution, discover all the advantages it could bring to your lending operations in this blog.
So what exactly is Cloud Lending?
To grasp what cloud lending is all about, first comprehend the notion of cloud networking solutions or cloud computing in general. The cloud is a collection of services that are hosted on servers outside of the bank's infrastructure and are accessible over the Internet. These services include servers, storage, databases, networks, software, analysis, and intelligence. To know more check out the other informational blogs related to cloud computing by COMnet.
Cloud Lending is a digital platform that allows financial institutions to automate and speed their underwriting and loan management procedures while also improving the client experience. This transforms into personalised and totally transparent assistance, with easy-to-access, adaptable, and simple-to-use digital tools and a customizable structure adapted to the customer's demands. 
This cutting-edge platform is built with modular services that may cover a portion or the entire credit life cycle. This varies according to the Cloud Lending solutions on the market. Cloud computing trends have evolved into a one-stop destination for all information-related difficulties. It  has simplified interoperability, secure storage, round-the-clock availability, and other challenges in the finance sector.
Unique Advantages of Cloud Lending Solutions
Scalability : With the cloud, financial institutions may scale capacity up or down as needed—and at any time. Financial institutions may also extend horizontally across their portfolios because the same cloud platform can service numerous product lines.
Automation : Cloud lending solutions can assist financial institutions in automating essential operations. This helps to streamline various aspects of the loan process, including data entry, document management, decisioning, and pre-approval, resulting in increased efficiency and speed.
User-friendly : Cloud lending solutions are typically accessible from a variety of devices, from any place, and at any time, making them user-friendly. Some cloud lending systems also provide features like data prefill and guided application processes, which can help speed up and simplify the onboarding process.
Maintainability : Unlike many in-house solutions, cloud lending platforms frequently do not necessitate the hiring of an entire staff of IT specialists to upgrade and maintain the technology. Many of the service requirements are handled by the software provider with a cloud lending solution. This can result in fewer IT difficulties and faster access to the most recent solutions.
Rapid market reach : Cloud lending solutions may assist financial services businesses in swiftly and effectively bringing a new product to market. This is due to the fact that they can incorporate low-code, drag-and-drop design tools, as well as built-in connections with a variety of technologies, data and service providers.
More effective closing : Lenders can achieve faster financing times using cloud lending solutions that enable digital closure. Not only do they allow borrowers to complete closing papers remotely, but they can also reduce post-close mistakes and preserve accuracy by leveraging automation to detect difficulties. The ability to seamlessly communicate with settlement agents inside one workplace can help speed closure.
How to Implement the Latest Cloud Banking Technology
It is difficult to stay ahead in the extremely competitive financial market. As the number of fintech service providers grows, both new entrants and existing providers must guarantee that the services they provide meet and exceed customer demand. That requires bringing on the correct technology at the right moment. However, before diving deeply into digital transformation, it is critical to follow the following key tips:
Ensure that your digital transformation aligns with your organisation's overarching strategic goals. 

Compliance and security should be considered at all times. As a lender, security is of the utmost importance. That is why, no matter how good a solution appears to be,

network security

comes first.

Get the appropriate help right away. When done alone, digital transformation may be a difficult task. Instead, get help from the right IT consulting firm and assemble the ideal individuals and teams ahead of time to assure success. 
Conclusion
Similar to other industries, the lending sector has seen a radical transformation thanks to cloud technologies. Among all major businesses, the banking industry has benefited the most from cloud computing. Unquestionably, the cloud-based lending system provides advantages, features, and benefits. Lower capital and operating expenses, as well as great process efficiency, are some of the enticing advantages of cloud-based loan management software.
Another important point is that cloud-based lending software may be tailored to the requirements of the firm. Advanced credit rating and scoring software is also included. The entire loan process is simplified by the highly automated cloud-based technology, which also enables data security with EDR solutions. By incorporating the best security features, a cloud-based loan management system would make the system and data extremely safe.