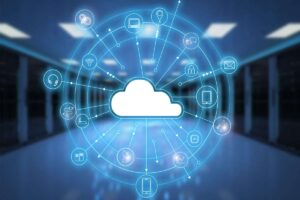 Operating in the cloud has many benefits for organizations, including reduced IT expenses, integration with the current IT tech stack, greater operational and administrative efficiency, enhanced security, improved performance, scalability, and space for innovation and the creation of new capabilities.
Given the COVID-19 pandemic, companies have adopted the cloud at a record-breaking rate because it offers the flexibility and accessibility needed to accommodate a distributed workforce. data migration in cloud computing. A recent study discovered that due to the pandemic, over 70% of firms employing cloud services intend to increase their investments for data migration in cloud computing.
However, as firms race to implement cloud computing technologies, the transition and adoption process can be complex and difficult. Moving corporate data to the cloud takes time, effort, and careful preparation. Companies should thus familiarize themselves with common cloud migration issues and viable strategies to overcome them before utilizing cloud benefits.
This blog will suggest some solutions to guide you through smooth cloud migration, regardless of whether you want to benefit from cloud infrastructure, platforms, or software applications.
Challenge #1 – Financial Cost
In the long term, the cost of shifting to the cloud is compensated by enhancements in productivity, lower administrative expenses, and streamlined operations. But getting there might seem like an expensive struggle. Nearly every data migration issue in cloud computing consists of a financial component. In addition to the long-term financial risks of poor or sluggish adoption and training after the migration has taken place, there are immediate costs associated with the move itself.
Solution –
Your best ally is preparation. Invest in a good change management strategy. A well-planned project will assist you to control the project's scope as well as the amount of disturbance to the business. Examine your company objectives and requirements, the existing condition of your IT operations, and the cloud solutions available. This examination and analysis will help you discover prospective difficulties, opportunities, and requirements that you can subsequently prepare for.
The financial investment and consequences of cloud migration might be intimidating. However, with thorough analysis and preparation, you may overcome these challenges and set a course to success.
#2 Cloud migration challenge : Adoption rejection
When it comes to migration success, it is frequently people that present the greatest difficulty. People are naturally resistant to change. And data migration issues in cloud computing entail a large amount of change and disruption, often resulting in considerably new systems, procedures, and even leadership. If the human factor is not managed properly, it will be difficult to perform a successful relocation.
Solution-
By demonstrating support and the extra value that cloud migration delivers, employees are more likely to accept training requirements for the new system. As a result, providing employees with a strong onboarding program assists the firm in smoothly implementing its cloud migration plan. It is also critical for the organization to select user-friendly cloud migration solutions and software that can interact with current legacy applications
Users prefer apps that interface with their present tech stack because they can smoothly connect the new tools to their previous tasks. Integrations not only improve processes but also boost staff efficiency.
#3 Cloud Migration Challenge: Skill Scarcity
Despite the numerous advantages of cloud computing, the difficulty of migration prevents many firms from moving forward. Finding personnel with the ability to oversee an efficient migration is one of the most difficult aspects of cloud migration.
As more businesses turn to the cloud, competition for migration expertise has heated up. Unfortunately, the demand for cloud professionals outnumbers the supply—at least for the time being.
Solution-
The best long-term strategy is to build cloud skills internally, which has multiple advantages. Your present IT personnel are already familiar with your old technology and established procedures. As a result, after they have received training in new abilities, they will be able to make substantial contributions more rapidly. 
Furthermore, acquiring and onboarding new personnel is both time and money-consuming. Working with current talent can help you save money and make a better financial investment. A corporate training project is a major undertaking. Internal education, on the other hand, can assist your firm to maintain its successful cloud migration.
#4 Cloud Migration Challenge: Vendor lock-in
Even after careful examination, there may be gaps between what your company needs and what your cloud provider provides. As a result, it is always advisable to have a backup plan in place to avoid vendor lock-in. 
Solution-
A migration evaluation of the vendor before selecting a cloud migration partner can help reinforce the picK. A defined cloud migration strategy that includes an escape clause, portable data, and code to avoid proprietary formatting, and, more crucially, embracing a multi-cloud approach can help alleviate pressure if a corporation decides to switch service providers.
#5 Cloud Migration Challenge: Data Security and Privacy
Data security and privacy are top priorities during cloud migration since many firms are concerned that their migration processes may fail. As a result, it is critical to discuss security policies with cloud service providers before migration.
Solution-
Businesses should be prepared to get answers on where their data will be held if end-to-end encryption will be offered, what their security and privacy policies are, and what security standards the cloud service provider complies with. By asking these questions, a company may learn more about its provider and their security measures.
Cloud migration is a large and complex undertaking for any firm. While this initiative presents several unique hurdles, cloud migration problems are not insurmountable. With everything technology has to offer today, investing in and contemplating migrating to the cloud is a wise decision.
The concept is to spot possible dangers and impediments early on and devise a plan to deal with them. Companies may maximize their cloud expenditures by employing an incremental strategy and a dependable cloud solution provider such as COMnet, one of the most reliable and trusted cloud computing service providers.