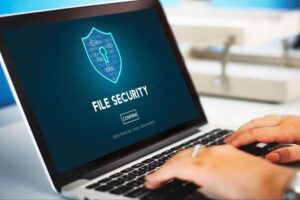 5G is changing the way people do business resulting in an increase in the number of devices that can take advantage of low latency and high bandwidth, allowing businesses to truly transform. The attack surface is rapidly expanding as a result of these devices, increasing opportunities for bad actors. This new wave of endpoints presents both an opportunity and a risk to businesses and implementing  endpoint security is more important today than ever before!
To keep the network safe from cyber-attacks, it is critical to select an effective EDR security solution. Investing in a security solution necessitates careful consideration because it is a critical enterprise decision. The software solutions company providing the security solutions must be trusted with protecting critical data and providing a long-term endpoint management solution. Whatever the need be, COMnet is transforming businesses with the  best workstations, laptops, and PCs to meet all your computing needs. For the best and reliable IT solutions and services checkout their website now.  
This blog post will explain what an EDR solution is and the various advantages associated with it. You should know more about how to safeguard your network from online attacks after reading this blog.


What exactly is endpoint protection, and why is endpoint security so necessary today?
Endpoint security or end point detection and response (EDR) refers to the safeguarding of networked devices, including laptops, smartphones, and tablets, that are employed to access business networks and services. It is designed to shield these gadgets from numerous online dangers including malware, ransomware, and phishing attacks. It requires a complex software system that may perform multiple functions. 
One of the most convincing reasons for robust endpoint security in today's world is that 70% of the most successful breaches emerge at the endpoint. Throughout the current modern work from home (WFH) environment, more employees are connecting to internal systems from endpoints outside the office.
The endpoint is one of the most dangerous threats to an organization's security vulnerabilities and can provide a simple path and entry point for cybercriminals. Attackers can utilize the company's assets to execute code or exploit the vulnerabilities through an endpoint. Despite the fact that endpoints reflect every device connected to the network, an attack can rapidly spiral out of control if endpoint detection and response are not provided accurately.


Advantages of Using an Endpoint Security Solution
In an era when data breaches are becoming more prevalent, having a strong security system to protect your network is very essential. One of the best ways to keep your network safe from attacks is to adopt endpoint technologies. Here are some of the major advantages that EDR solutions provide:
Enhanced security: Endpoint systems adds an additional layer of security to your network and devices, assisting in preventing successful system penetration by cyberattacks.
Improved visibility: Endpoint security solutions normally include tools for controlling and monitoring the security of your devices, which can assist you in seeing possible attacks in real-time and taking immediate action.
Enhanced compliance: Using endpoint security can help you prove that you are taking the necessary precautions to secure sensitive data if you are in need to comply with regulatory requirements like HIPAA or PCI DSS.
Better control: Endpoint security solutions offer you the ability to define policies and restrictions for how devices are utilized and accessed, assisting you in keeping your network and data under your control.
Increased productivity: Endpoint security may assist to reduce disruptions to your business operations by defending against cyber attacks and lowering the chance of data breaches, allowing your staff to concentrate on their job without being concerned about the security of their devices.
How do you choose the ideal endpoint security partner?
Having a strong endpoint protection plan is essential in the fight against cybercrime and as part of a wider IT security strategy since it will make it much more difficult for an attacker to enter your business network.
Among other things, an endpoint security solution filters outgoing and inbound traffic and blocks any malicious activity. It can easily prevent malware, phishing attacks, and other online threats. There is a wide range of solutions available on the market, as well as a number of factors to consider when selecting an endpoint security solution for your network.
You can narrow down your options and select the best security solution for your needs once you have the answers to these questions:
What devices will be protected by the endpoint security solution?

How much traffic must the firewall handle?

What level of security do you require?

What characteristics are important to you?

How simple is it to implement the security solution?
To summarize, endpoint security may help you secure your devices, safeguard your data, and keep control over the network, all of which could assist to enhance your organization's overall security and resilience. Every device that employees are using to connect to business networks presents a risk of cyber hackers stealing important information. Endpoints, or devices, are growing more widespread, making security more complex. As a result, it is vital for organizations to develop solutions that protect their cybersecurity front lines.
When deciding which product is best for your network, it is critical to consider your needs as well as the features offered by various products. You can secure your network infrastructure from potential threats by selectively choosing a  technology that meets your requirements.